Large Frame Machining Centers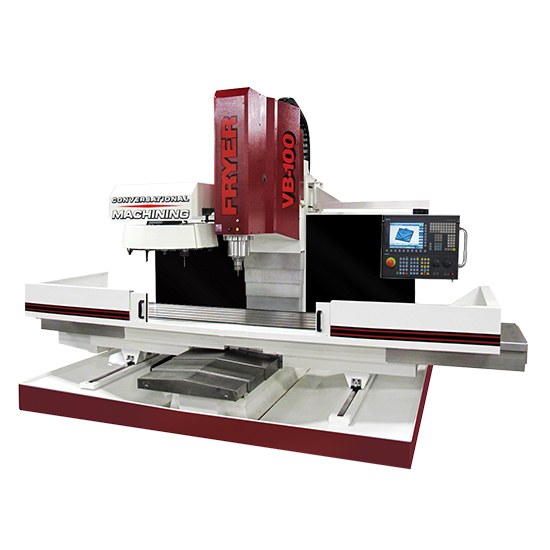 VB-100
VB Series
Extra Large Travel
X travel to 160"
Simple Set-Up & Programming
Easy Loading of Large Parts
Excellent value
VB-60

60" x 30" x 28"

VB-80

80" x 35" (40") x 26" (34")

VB-100

100" x 35" (40") x 26" (34")

VB-120

120" x 40" (50") x 40"

VB-160

160" x 40" (50") x 40"

REQUEST INFO
Overview
Designed as a high performance machining center without an enclosure, the Fryer VB Series offers versatility and value. Ideal for production and job shop applications, the VB open design and rugged construction allows for easy loading of large parts. Extremely simple set-up and programming make this machine highly efficient for even short run parts. The VB series is also equipped with an impressive set of standard features unmatched by any machine in its class.
FEATURES
Box way construction with Turcite B liners
Extra large travel up to 160" x 50"
Rugged 40 and 50 taper spindle
Automatic tool changer
Rigid tapping with peck feature
High volume flood coolant system
PRODUCTIVITY
Fast conversational programming
Fast set-up keys
Absolute encoders
Regenerative drive technology
Available full guarding
Coolant thru spindle
CNC Control
Overview
The Fryer / Siemens 828-HS control is designed for ease of use in low volume toolroom and job shop facilities. Simple menu programming and fast set-up keys allow you make one-off parts in half the time of a manual machine. Multi mode operation allows you to use the machine manually, semi-automatic and full CNC mode. Canned cycles and graphic verify make set-up faster and easier.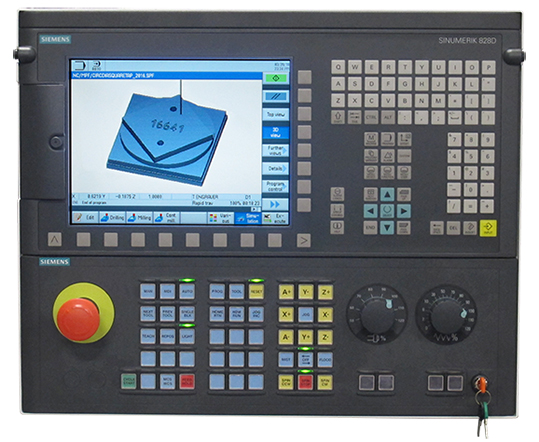 FRYER-SIEMENS 828-HS CNC
Manual or CNC
Do-one mode
Teach mode
Conversational mode
TECHNOLOGY
Ultra reliable Siemens High Speed all digital control system
Regenerative drives save 40% electrical use
Digital drives provide better accuracy and surface finish
Absolute encoders never require you to 'home' machine
Geometry Creator
Enter part dimensions using the Simple Geometry Creator. The dimensions are drawn on the screen while you enter them and missing information is automatically calculated.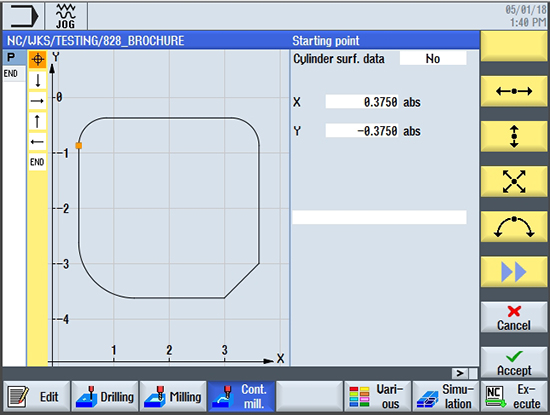 Pocketing Cycles
Choose from a wide variety of pocket shapes. Then answer basic questions about the depth of cut, tool type and finish stock allowance.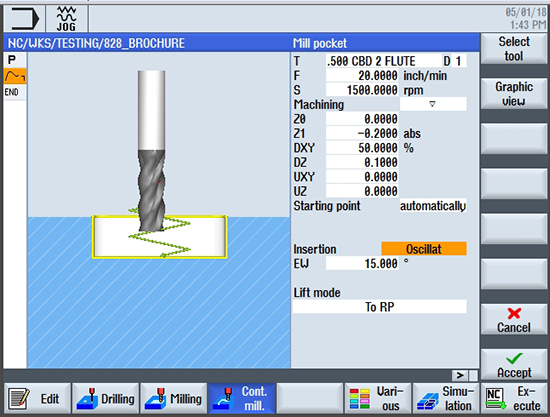 Drilling Cycles
Choose from a wide variety of drill cycles including drill, deep hole drill, peck drill, bore, rigid tap, rigid peck tap and more.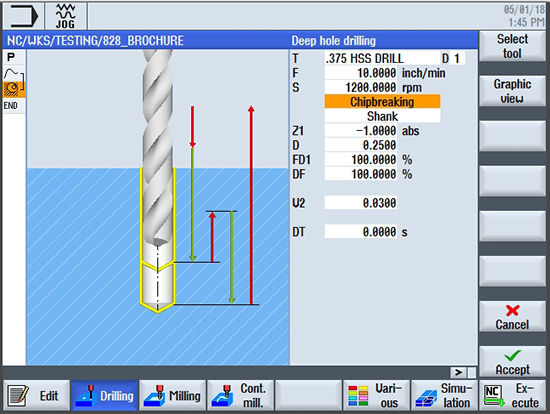 3D Graphic Simulation
The 828-HS uses sophisticated solid model graphic verification to accurately show what your part will look like BEFORE you cut it. Also choose from wireframe or multiview screen.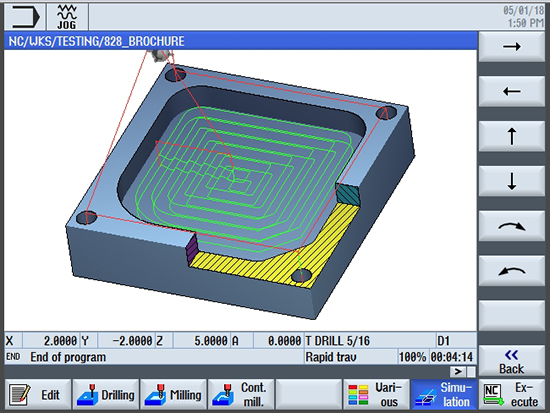 Please download our
CNC Control brochure
for more detailed information.