Compact Large Swing VTL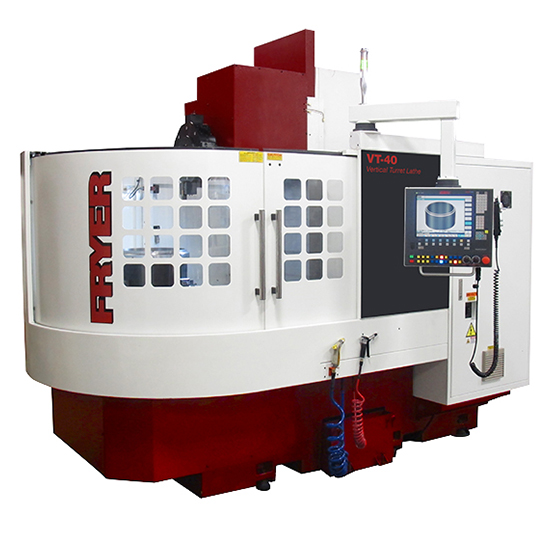 VT-40
VT Series
Vertical Turret Lathe
Innovative traveling column design
Large swing in a small foot print machine
Unique horizontal turret
Excellent clearance for long & short tools alike
VT-30

30" Swing

VT-40

40" Swing

VT-60

60" Swing

VT-80

80" Swing

REQUEST INFO
Overview
The Fryer VT Series is a compact, large swing vertical turret lathe. This series features an innovative traveling column design that allows a large swing in a small foot print machine. The unique horizontal turret features excellent clearance for long and short tools alike. The VT is available with full C axis contouring and positioning as well as a powerful live tool turret. Equipped with Fryer-Siemens Touch 2200 CNC control that features shop floor conversational programming, G code programming, 3D graphics and fast set-up cycles.
FEATURES
Compact design uses half the floor space
30", 40", 60" or 80" swing models
8 or 12 tool automatic turret
BMT-65 tooling for high rigidity
High torque geared headstock
C axis and live tooling
PRODUCTIVITY
Fast set-up and programming system
Shop floor programming
Excellent for small lot production
Small foot print
Traveling column provides improved clearance
Siemens or Fanuc CNC
CNC Control
Overview
The Fryer – Siemens Touch 2200 CNC provides world class technology and ultra-advanced features in an intuitive user interface. This state of the art platform provides the ultimate for 5 axis, high speed machining, horizontal machine and turning applications alike. Fast set-up cycles, one button hot keys and built in probe cycles speed the set-up process. Shop floor programming, G code programming, large program storage and Ethernet connectivity speed the programming process. 3D solid model graphic verification, handwheel run and easy interrupt speed the first article process.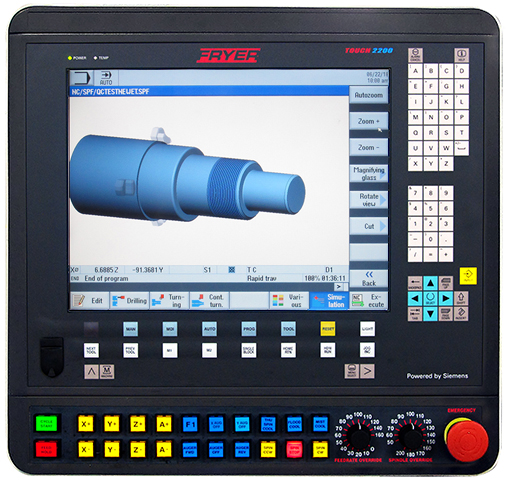 FEATURES
One touch set-up cycles
Shop floor programming system
G code programming editor
Advanced graphic simulation
TECHNOLOGY
Advanced Digital Control System
Regenerative drive technology (saves 40% electric)
Absolute encoders – no homing needed
High accuracy contouring and surfacing
Tool setting is done in an easy to understand animated GUI. Tools can be set in manual mode or with an automatic tool setter for both X and Z axis.
Live tool part programming with C axis is easy with canned cycles helping you fill in information. Tell the cycle the part diameter and it will wrap it around the part to create pockets, drilling, engraving, hexes and more.
Single point threading for ID or OD is easy to do with the graphical menus. All standard threads in inch or metric are preconfigured, plus you have the ability to create nonstandard threads in right hand or left hand.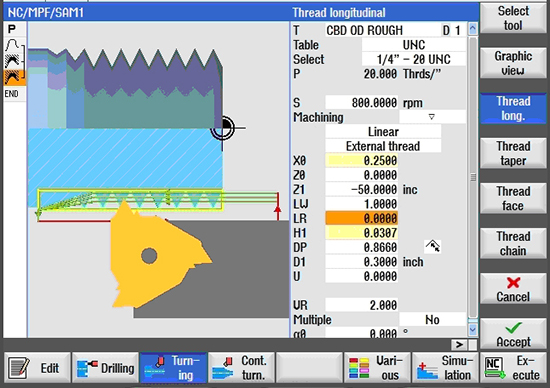 Standard 3D graphic simulation shows the part before it is cut. Part can be rotated and cut open to look inside to verify ID work. Cycle time based on speeds and feeds is also displayed.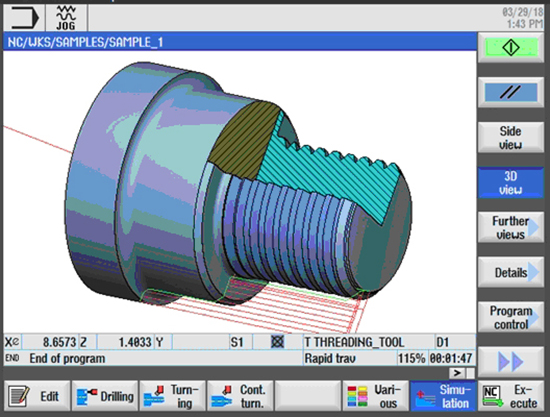 Please download our
CNC Control brochure
for more detailed information.