Customer Support & Service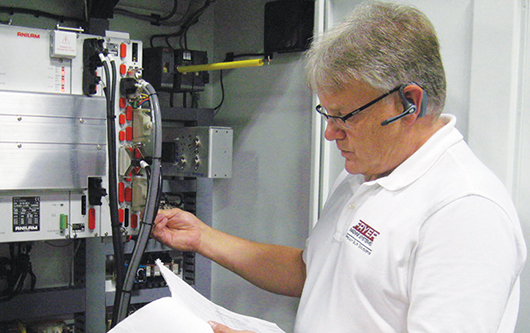 All Fryer machines are hand built, American made machine tools that represent the highest quality and value available today. Our skilled Service Team is here to assist you with maintaining your machine by offering spare parts, service visits and technical support.
Preventative Maintenance Program
Keep your machine running trouble free with Fryer's Preventative Maintenance Program. This once a year program is designed to spot minor problems before they become serious. We thoroughly review the mechanical and electrical systems of the machine tool and replace wear item parts. Fryer technicians will provide a written report on the functionality of these components as well as make any adjustments necessary to keep your machine in top shape.
Training Programs
Fryer offers training programs in operation, programming and maintenance. These programs can be done at your facility or the Fryer training classroom in Patterson, New York.
Replacement Parts
Fryer service is headquartered in our 55,000 sq. ft. facility in Patterson, New York, which includes a fully stocked parts department. No matter what the age of your Fryer, you can rest assured that replacement parts will always be available. We ship most of our parts orders within 24-48 hours.
Extended Warranty Program
Fryer offers a low cost extended warranty that covers both parts and labor and extended warranty that covers just parts. Not available in all areas, contact customer service for more information.
Contact the Fryer Customer Support Team:
service@fryermachine.com
v: 845.878.2500
f: 845.878.2525
Service Hours: 8:30 am to 5:00 pm (EST)
Service/Parts Request Form