Recent News & Events
SEPTEMBER 10 - 15, 2018 MCCORMICK PLACE • CHICAGO, IL Come see us in the South Hall Booth #338719
Designed by toolmakers for tool makers, the MB mill is by far the easiest mill to use in its class. Full manual operation allows anyone in the shop to use the machine with little to no training. In addition, the machine features Do One cycles that allow you to automatically mill, pocket, drill and tap, one step at a time. Manual operations and semi-automatic operations can be mixed to speed through one-piece production.
Read More
.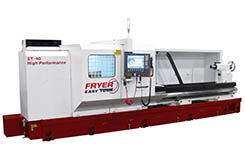 Posted December 14, 2017
Fryer delivers a customized ET-40 for General Dynamics Ordnance and Tactical Systems
The machine was custom designed to cut abrasive parts used in the Patriot Missile System. It features live tooling, Y-axis turret, C-axis spindle and a special abrasive material protection package for the ways and ballscrews.


Before the company's investment in Fryer, it took Spyder's shopfloor a month to manufacture 50 sets of tree climber products. Now they manufacture nearly 500 sets each month. Higher production capacity and efficiency have brought a nearly tenfold increase in sales of the company's flagship product.

Read More

.
Posted October 19, 2017
Northern Automotive Systems of Wales, UK visits the Fryer Factory
Runoffs are always exciting at the Fryer factory! This week we welcomed Northern Automotive Systems from Wales, UK for the runoff of their new Fryer VB-160 machine. This custom VB-160 has 147 rotating spindles that polish aluminum sheets to create high tech automotive dashboards.

Keep in Touch