Large Capacity Small Batch Turning
ET-30
ET - LC Series
Easy Turn - Large Capacity Turning
Easy-to-use Operator Interface
High Performance Drives & Motors
Simple Programming for One-Off Parts
Perfect for Large Parts
ET-30

30" Swing

ET-40

40" Swing

Center Distances

60", 80", 120", 160", 200"

Spindle Bore Sizes

4.1", 6.1", 9", 12"


REQUEST INFO
Overview
Heavy duty construction distinguishes the ET Large Capacity Series lathes. Designed for applications where high rigidity is required, these machines can be custom configured for your most demanding applications. Easy-to-use operator interface allows simple shop floor programming for one-off parts. High performance drives and motors combine with standard G-Code interface allowing production to run smoothly and efficiently.
Ease of Use
Full manual mode with 2 handwheels
One button fast setup - simplifies setup process
Fast menu programming system
Standard G and M code programming
Thread repair cycle
3D graphics for part verification
Quality
Precision built four-speed geared headstock
Digital servo motors & drives with absolute encoders
Manual tailstock with large #6 center
Heavy duty double Vee way construction
Best in class construction
30HP high torque spindle motor
CNC Control
Overview
The Fryer / Siemens 828-HS control is designed for ease of use in low volume toolroom and job shop facilities. Simple menu programming and fast set-up keys allow you make one-off parts in half the time of a manual machine. Multi mode operation allows you to use the machine manually, semi-automatic and full CNC mode. Canned cycles and graphic verify make set-up faster and easier.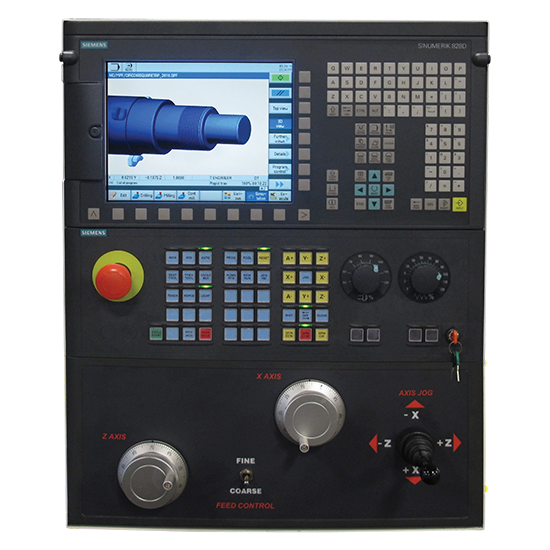 FRYER / SIEMENS 828-HS CNC
Manual or CNC
Do-one mode
Teach mode
Conversational mode
TECHNOLOGY
Ultra reliable Siemens High Speed all digital control system
Regenerative drives save 40% electrical use
Digital drives provide better accuracy and surface finish
Absolute encoders never require you to 'home' machine
Lathe Contour
Geometry. Enter part dimensions using the Simple Geometry Creator. The dimensions are drawn on the screen while you enter them and missing information is automatically calculated.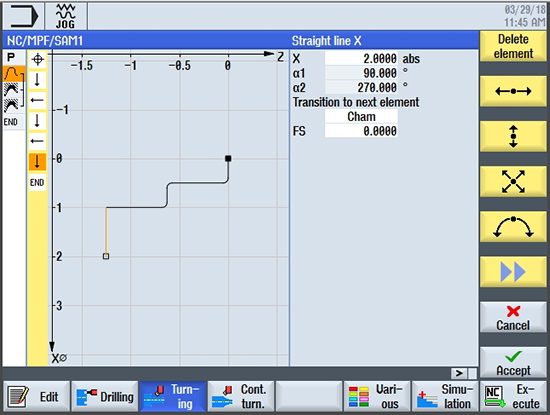 Lathe Rough Cycle
Roughing cycle. Answer basic questions about the depth of cut, tool type and finish stock allowance.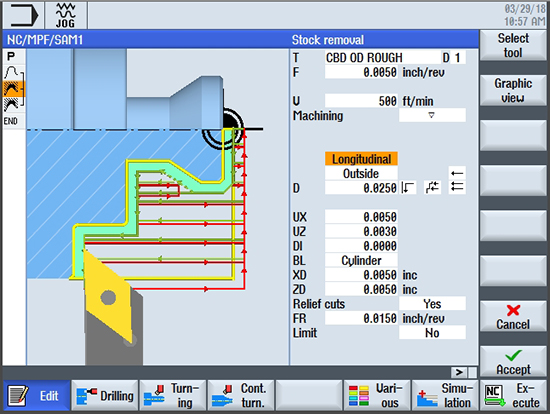 Lathe Thread
Threading cycle. Answer basic questions about the thread size pitch and tool type.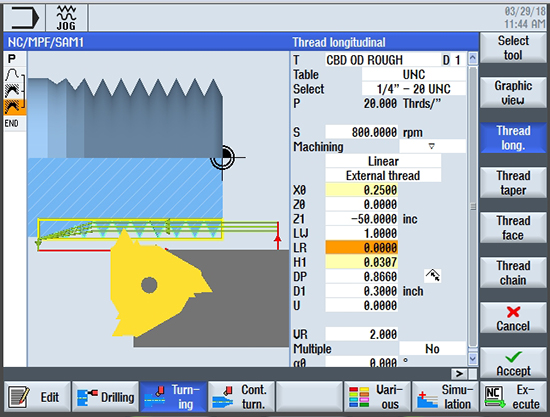 Lathe Simulate
The 828-HS uses sophisticated solid model graphic verification to accurately show what your part will look like BEFORE you cut it. Also choose from wireframe or multi-view screen.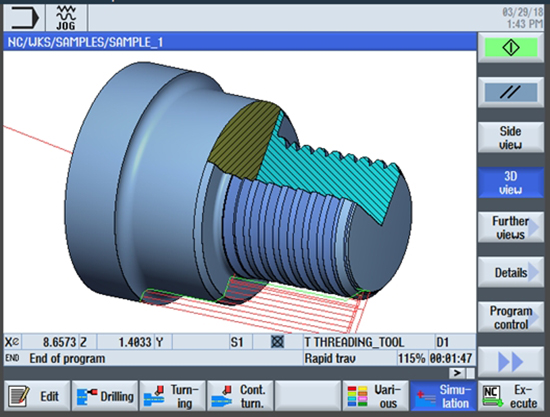 Please download our
CNC Control brochure
for more detailed information.